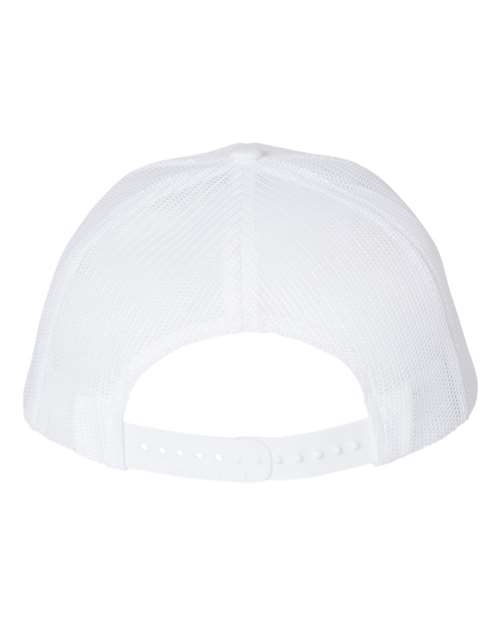 Clemson Tigers Leather Patch Trucker Hat-(Clemson) White
---
Introducing the Officially Licensed Clemson Leather Patch Trucker Hat

At Hatflowco.com, we proudly present the Clemson Trucker Hat, a must-have accessory for all passionate Clemson University fans. This high-quality hat, crafted by the renowned Richardson 112 brand, combines style, comfort, and to create a truly unique headwear experience.

Featuring a classic trucker hat design, the Clemson Trucker Hat is constructed with a structured mid-profile front and a breathable mesh back. This ensures optimal ventilation and comfort, making it perfect for wearing during those hot summer tailgates or cheering on the Tigers at the stadium.

What sets this hat apart is the stunning quality of the leather patch stitched in orange to show off that school spirit. Crafted with meticulous attention to detail, showcasing the love for Clemson Tigers in every stitch. As a nod to the beloved Clemson Tigers, the patch is elegantly engraved with their iconic Clemson with Tiger Paw logo, symbolizing your unwavering support for the team.

Made with top-quality materials, the Clemson Trucker Hat is designed to withstand the test of time. The front panels are made of a durable cotton twill fabric, ensuring durability and a crisp, clean look. The back panels are constructed with a breathable mesh that guarantees excellent airflow, keeping you cool and comfortable throughout the day.

To guarantee a perfect fit, the hat features an adjustable snapback closure. Whether you prefer a snug fit or a relaxed feel, you can easily adjust the hat's size to suit your personal preference. This allows for a comfortable and secure fit, so you can confidently wear your Clemson Trucker Hat all day long.

Wear the Clemson Trucker Hat to showcase your love for Clemson University. It's the perfect accessory for game days, outdoor adventures, or simply adding a touch of Clemson spirit to your everyday style.

Order your Clemson Trucker Hat today from Hatflowco.com and proudly wear your South Carolina pride on your head. Go Tigers!