More about Cole and Our Partnership
We are excited to announce a partnership with Cole's Victory Lap. This foundation was created by the parents of Cole "Cole Bear" Henderson to honor him and his legacy. In February of 2021, Cole earned his angel wings before the age of 3. Our partnership is to honor Cole and spread the awareness of childhood cancer. With the support of all of our customers, friends, family, and community we can help fight childhood cancer. Here is how you can help support this foundation:

As a company we have decided to donate $1 per hat with all custom hat orders and every online store item bought from now until the end of June. Cole was a Clemson Tiger fan, so to honor that we will up the donation to $2 for every Clemson Leather patch hat bought from our collegiate line on our website. The donations will go to provide items like theme bed sheets for kids, snacks and other items to help make life a little more "bearable" for families and staff. 
Other ways to help or donate can be found through the foundation's page on Instagram (@colesvictorylap) or Facebook (Cole's Victory Lap). We encourage you to learn a little more about Cole journey fighting childhood cancer below.

In April of 2020 Cole came up with a black eye that would not go away. He was taken to the Pediatrician and was determined he need to be admitted to the hospital. Blood work and many tests were performed. After scans and test results came back it was discovered that there was a mass in his sinuses and large tumor in his abdomen. They scheduled surgery for Cole to have a biopsy to test the tumor. A couple of days later the doctors delivered news that no parent wants to hear about their child. Cole was diagnosed with Stage 4 Neuroblastoma. Cole would then begin his fight with cancer and a fight no child should ever have to go through. In 10 months he went through 4 rounds of standard chemo treatments, multiple surgeries and 13 rounds of radiation. After completing the treatments Cole was able to ring the bell. Shortly after Cole relapsed and the cancer spread to his lungs where it took over incredibly fast. On February 20, 2021 Heaven gained an angel after Cole Bear earned his angel wings. He will forever be remembered. 

Thank you all for your support as we help fight childhood cancer together with Cole's Victory Lap!
Check out Cole's Victory Lap Here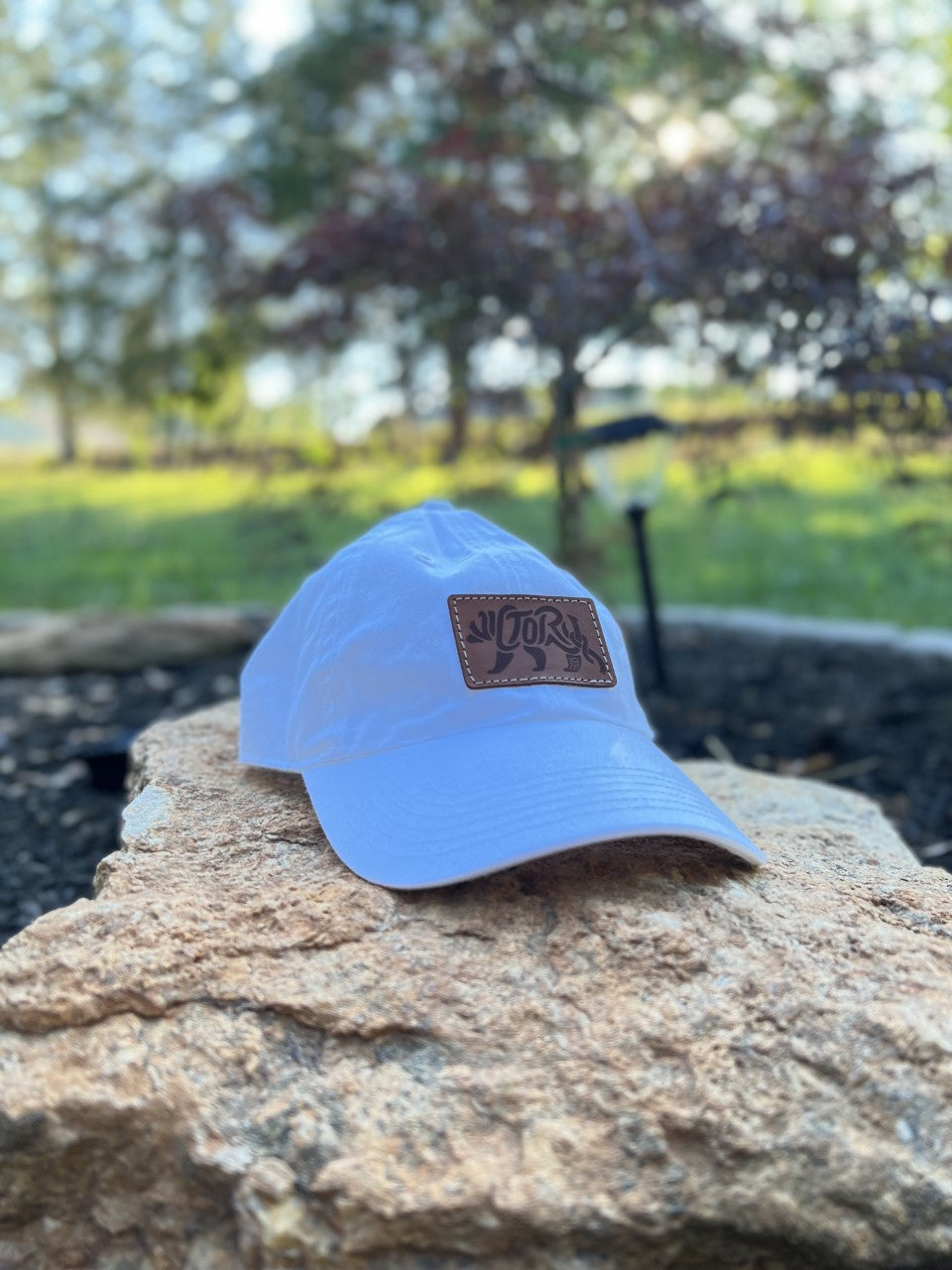 ---
We honor Cole Henderson as all proceeds from the Victory Leather Patch Hats will go to Cole's Victory Lap Foundation to help children fight against childhood cancer. Foundation provides themed bed sheets, snacks, and other items to help the children, families, and staff's fight against cancer more Bearable.



100% cotton
Unstructured, six-panel, low-profile
Pre-curved visor
Cloth backstrap with Richardson flip buckle