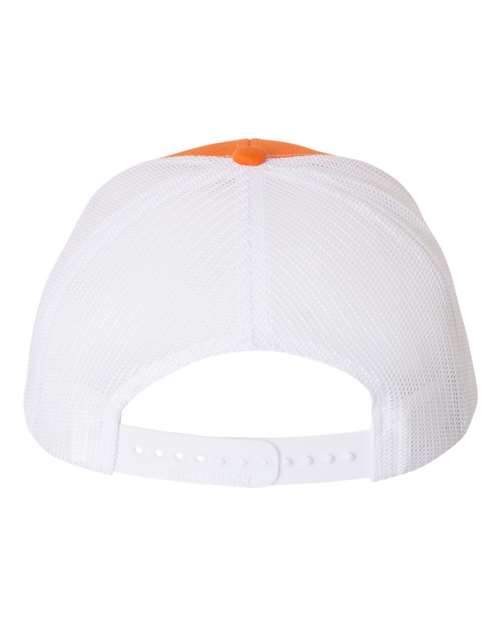 Clemson Tigers Leather Patch Trucker Hat-(C) Orange
---
Introducing the Officially Licensed Clemson Tigers Leather Patch Trucker Hat: Where Style Meets Team Spirit!
Welcome to Hatflowco.com, where we're thrilled to introduce the Clemson Tigers Leather Patch Trucker Hat, a symbol of unwavering support for Clemson University and a blend of fashion and team pride that's second to none.
Crafted with precision and attention to detail, this hat features a classic trucker design, complete with a structured mid-profile front and a breathable mesh back. Perfect for those passionate game days, outdoor adventures, or simply adding a dash of Clemson spirit to your everyday attire.
What truly sets this hat apart is the meticulously designed Clemson Tigers leather patch, adorning the front panel. Carefully created, this patch showcases the iconic Clemson "C" logo with unparalleled precision and style. It's a statement piece that radiates your allegiance to the team and adds an air of sophistication to your overall look.
The Clemson Tigers Leather Patch Trucker Hat is not only a style statement but also a testament to quality. The front panels are crafted from durable cotton twill fabric, ensuring resilience and a polished appearance. The mesh back panels offer optimal airflow, ensuring your head stays comfortable and cool even during the most intense moments.
For a personalized fit, the hat features an adjustable snapback closure. This ensures you can customize the size to your liking, guaranteeing a snug yet comfortable fit every single time. Whether you're at Death Valley, walking around campus, or simply enjoying your day, this hat will stay securely in place, letting you showcase your Clemson pride with confidence.
The Clemson Tigers Leather Patch Trucker Hat is more than just an accessory – it's a representation of your connection to Clemson University. Wear it with pride and display your team allegiance whether you're at the stadium, out on the town, or simply relaxing.
Experience the epitome of Clemson Tigers fandom with the Clemson Tigers Leather Patch Trucker Hat, exclusively available at Hatflowco.com. Join the Clemson family and make a statement that resonates far and wide. Go Tigers!